Slamming the door behind you at 7:30 AM, knowing you're running late because that 40 minute commute just turned into a 50 minute commute…sound familiar?
That was my life until almost two years ago. Roll out of bed at 7:10, press the coffee button, hurricane around my 600 square feet for 15 minutes and flee out the door to get to work. I often looked back at my small apartment and beautiful yard with longing, knowing I rarely saw it in the afternoon sunshine. I was lucky to get home before dusk.
Now, I work at Automattic as a Happiness Engineer. We're the company behind WordPress.com and we contribute a lot to the WordPress.org project. I have more going on in life than I did before – imagine my opening scene plus a dog and a baby. I don't think I'd be very good at engineering my own happiness.
My partner and I wake up at 7 AM to the sound of our 9 month old chattering in the other room. The next thirty minutes are family hangout time, ending at my "Crap I'm late" mark from a previous life…or maybe even a little later if we're having fun.
I finally, officially roll out of bed and make much better coffee – fresh grounds in an espresso machine. Baby and dad hang out and get ready for preschool, while I take our dog on a walk. I check on the progress of the ojo de cabra (beans) in the garden, and then sit at my desk around 8:15 am.
The day starts with a jumble of greeting a few different teams in various Slack chat rooms, catching up on what's changed in the past 12 hours, and replying to any email responses I've received from users.
At 9:00 am sharp, I begin live chatting with whomever should walk through our virtual door. We work on setting up websites, adjusting theme settings, troubleshooting errors – anything can happen. I'll work this way for about 5 hours, and I'm not sure where that time goes. Imagine stepping into a web-support Matrix – live chat very much feels like a virtual reality. Some days are like sitting on a sunny park bench, getting absorbed into stories or gorgeous photography on a user's site while we adjust a page's settings. Other days it's like battling the agents and trying to crack their code as fast as possible while jumping between bug reports and a user with a complex theme who's never touched a website before.
You could call live chat a meta shift, since it's my shift within my shift. It gets super meta because I set these shifts – both of them – as the director and the actor.
The next hour or two look like bug reports, following up with users who needed a little extra research, and maybe working on some sort of projecty work. The diversity of tasks and changes challenge me every day. I watch my technical skills jump and morph – their growth depends on how far I choose to dive in.
projecty work: def. Noun+adjective/adverb (flexible). Includes but not limited to building training material, updating support documents, compiling support data, and mentoring other team members. None of it's assigned. It's stumbled upon through exploration and engaging with others in the company.
Through all of these daily segments, there's a continuous cascade of conversation with teammates in Slack. We achieve that delicate balance of work and social chatter, all complimented with gifs.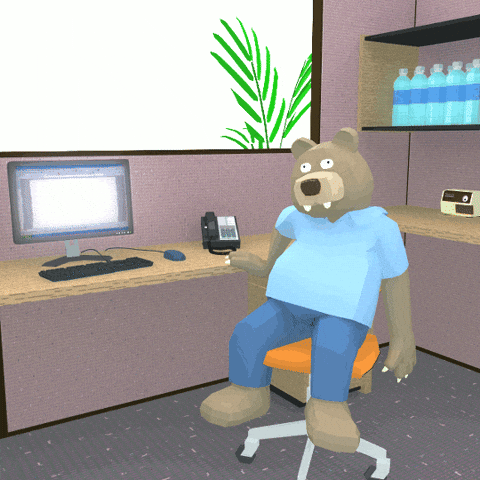 The days can get intense – at some point, I'll shovel down a sandwich, make more coffee, and let the dog out all as a matter of muscle memory. But then, at 4:30 sharp (you know, a timestamp before I could have stepped out the door of my last job), Baby and Dad walk through the door to melt me with smiles. I figuratively close my laptop. Some evenings have me scanning back through email responses from users I've been working with – just to see the result of an issue resolving.
Is there any variance in the day? Well, I do set which shifts and meta shifts I choose to work, and my only limits revolve around family – a nice change in priorities. Variances may move my work station to the yard or a coffee shop, or working on a Saturday to take the next Friday off.
I used to work for a corporation that had a few remote teams. Their lives looked isolated, and they didn't have relationships with their teammates. At Automattic, healthy communication is so important it's written into our core. My community here looks closer to the friends I made in college than a group of coworkers. So that means having Slack open while I make dinner many nights, chatting with team members just because we can. Maybe we troubleshoot an issue together, watch a presidential debate together, or catch up on life together.
Want to join the community and take on the Matrix of distributed publishing? We're hiring 🙂